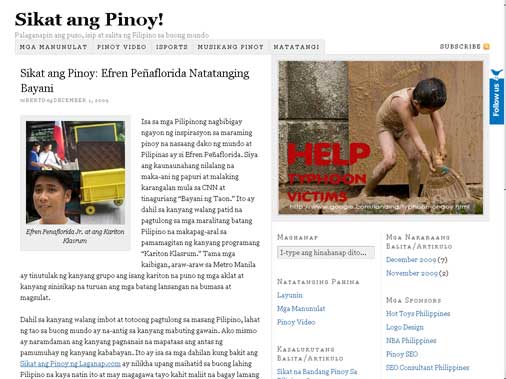 A new website was released this month containing information about the different achievements and success of Filipino's worldwide. It is the Laganap.com, a website written in pure Tagalog or Filipino and has a running title of
Sikat ang Pinoy
. Sikat ang Pinoy means Filipinos are popular. Actually that's the nearest translation but the meaning in local sense is much deeper. It speaks of how the people of the country shows its strength of being one of the best on their fields. That's the reason why you will see on the site the different Filipinos who have given honor and dignity to the Philippines.
The site also contains some
pinoy music videos
and articles with a Filipino touch. Recipes and other stuff are plan to be included on this magazine-like site that focus on the culture and values of the Filipino people.
-
oes tsetnoc
contribution to the Filipinos world wide.